The manufacturing industry is uniquely positioned to integrate the benefits of data science into all levels of their business. From the enterprise level, to the plant level, to the line level, manufacturing firms generate vast quantities of underutilized data that can be integrated and analyzed to better understand the intricacies of their manufacturing processes. Integrating the wide variety of data that are generated in the manufacturing pipeline into a single data pipeline allows automated views and greater control of lines, while providing more levers to pull with variables involved in manufacturing any product. Deep learning models can be applied at all levels of the manufacturing process in order to optimize production and generate the highest value.
Machine Learning: Optimize capacity utilization by identifying possible process bottlenecks and analyze plant utilization across the entire supply chain in real-time. Incorporate predictive supply chain analytics.
Automated Dashboards & Compliance: Automate regulatory reporting and track information through the entire production lifecycle. Incorporate IoT information and readouts into automated supply chain management systems to ensure maximum output to satisfy projected consumer demand.
Operations: Operationalize the data pipeline to maximize yield without sacrificing quality. For example, predicting store demand accurately is a major industry challenge, we can develop predictive models that forecast the SKU levels per product, region, or distribution location. Further, we can automate payment and processing to reduce labor costs, errors, and minimizing active inventory/WIPs by paying for materials predictively.
Predictive Lifecycle Management: Calculate equipment and process ROIs, lifetime values, and other key metrics to help manage downtime and assess product/production lifecycles that reduce costs, lag periods, and development time.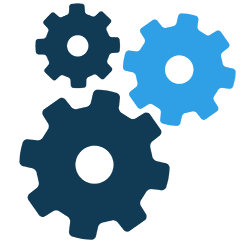 Predictive Modeling: Optimize resource utilization through scrap reduction and process optimization. Compare the failure rates of parts available from multiple manufacturers, establish which ones are the best value when you consider production loss due to downtime, labor costs relative to a supplier, and make better purchasing decisions.
Forecast output, while simulating new manufacturing processes.
Model and predict machinery maintenance periods, ingest sensor information and production quality metrics to limit downtime.
Anomaly Detection: Automate performance driver and bottleneck identification to predictively mitigate process fluctuation.
Create automated data funnels to generate deeper insights into quality and production. IoT data can enable sophisticated and precise tracking along lines to ensure quality, while maximizing plant capacity.
Supply Planning: Implement supply and logistic predictive models; reduce lag and risk with suppliers, components, and parts defect tracking systems/tests. Automate big data stores for supplier performance data to inform contract negotiations.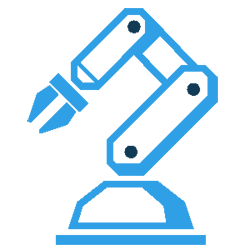 Quality Control: Product quality and defects tracking. Optimize the first-pass yield by tracking in real-time variances that affect quality. Create automated quality control systems based on image or time-series analysis, such as object detection, anomaly detection, or signal processing.
Feedback & Process Defect Tracking: Automate monitoring by setting parameters and establishing alerts when a process is out-of-bounds.
Preventative Maintenance: Predictively monitor asset failures to minimize line down-time.